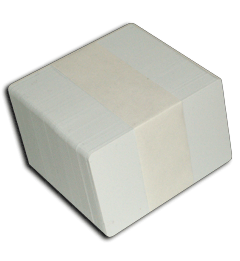 Earth-Friendly bio PVC White - 30 Mil - 500 cards
We are proud to offer Biodegradable White Plastic Cards! Pack of 500 cards.
BioPVC will allow the biodegradation of all PVC plastics.
The bioPVC performs just like standard PVC. Ink adhesion, lamination, die cutting and embossing all perform within the same parameters. The finished card performs equal to cards manufactured on regular PVC as no biodegradation takes place unless the product is in a fertile environment.
A fertile environment can include compost, waterway or where other items are biodegrading. Microorganisms consume the plastic over a period of nine months to five years with complete disintegration taking place.
Pack of 500 cards.

Is this product right for you?
Ask our experts! (800) 943-2341