Evolis Primacy Simplex Expert Base Model - Fire Red
Evolis Primacy Simplex Expert Base Model - Fire Red - Print single or dual-sided cards in medium or large runs. DISCONTINUED, new replacement: PM2-0001-A
General features
Single-sided or dual-sided printing module, edge to edge printing
Color dye sublimation , monochrome thermal transfer
300 dpi print head (11.8 dots/mm)
16MB Memory (RAM)
Printing performances
Single side :

Color (YMCKO) : 190 - 210 cards /hour
Monochrome : 600 - 850 cards /hour

Dual side (YMCKO-K) : 140 cards /hour
Card management and specifications
Feeder capacity: 100 cards (0.76 mm - 30 mil)
Output hopper capacity: 100 cards (0.76 mm - 30 mil)
Reject tray: 30 cards (0.76 mm - 30 mil)
Card thickness: 0.25 to 1.25 mm (10 to 50 mil), gauge adjustment (0.25mm / 10 mil cards for monochrome printing only)
Types of cards: All PVC, Composite PVC cards, PET, ABS(1) and special varnished(1) cards
Card format ISO CR80 - ISO 7810 (53.98mm x 85.60 mm)
(1) Under specific conditions
Evolis High Trust ribbons
To maximize the quality and durability of printed cards, the lifespan of the print head and the overall printer reliability, use Evolis High Trust ribbons.
Automatic identification and setting
Delivered in a drop-in cassette for easy handling
Ribbon saver for monochrome printing
Interfaces
USB 1.1 (supports 2.0)
Ethernet TCP-IP 10BaseT, 100BaseT (Traffic Led)
Display
Printer LEDs
Graphical notifications(2) from the printer: Empty input hopper alert, cleaning alerts, empty/low level ribbon alert
(2) Depends on the Windows version
Software
Delivered with Evolis Premium Suite for Windows:

Printer driver
Evolis Print Center for printer management and settings
Printer Manager for bi-directional graphical notification(3)
Compatible with Windows: XP SP3; Vista 32/64, W7 32/64(4)

Delivered with a driver for Mac OS X (from 10.5 onwards)
Other OS: Linux upon request
(3) Requires the .net 4.0 client profile version
(4) For older Windows versions, you can use the printer through the driver only (no Print Center, no Printer Manager)
Warranty
3-year warranty (printer and printhead)(5)
(5) Warranty subject to observance of specific conditions and use of Evolis High Trust ribbons
Size and weight
Size:

Height 247mm (9.72") x length 205mm (8.07") x width 381 mm (14.99")
Height 247mm (9.72") x length 205mm (8.07") x width 481 mm (18.93") (With reject tray)

Weight: 4.02 kg (8.86 lbs)
Dimensions and weight of the machine when packed :
Size (H x l x W) : 485 x 300 x 390 mm
Weight : 5.290kg
Sound (Evaluated according to the ISO 7779 standard)
Sound pressure level, LpAm, measure at the operator position (colour mode YMCKO) :
When operating: 48dB (A)
In sleep mode: background noise level
Safety
Slot for Kensington security lock
Data encryption for magnetic encoding
Packaging content
Printer
CD-ROM with printer drivers, user manuals
Cleaning kit
USB cable
Reject tray
Power supply and cord
Options & Accessories
Colors available : Fire Red & Brilliant Blue
Upgrade kit for dual-sided printing
Encoding options can be combined. Upgrade can be carried out on-site, by adding new modules: Magnetic stripe encoder, smart contact station, smart encoding unit, contactless encoding unit
Environmental features, certifications and statement of compliance
Standby mode & reduced energy consumption
CE, FCC, IEC, VCCI, CCC (6) , KC (6)
ErP 2009/125/CE, ENERGY STAR, ROHS
(6) Expected in December 2012
Power
Power supply : 100-240 Volts AC, 50-60 Hz, 1,8A
Printer : 24 Volts DC, 3 A
Environment
Min/max operating temperature: 15° / 30 °C (59° / 86 °F)
Humidity: 20% to 65% non-condensing
Min/max storage temperature: -5° / +70 °C (23° / 158 °F)
Storage humidity: 20% to 70% non-condensing
Operating ventilation: open air
Resident fonts
Arial 100, Arial bold 100
Barcode: Code 39, Code 128, EAN 13, 2/5 interleaved
QR code
Scan this QR code and see this product on your Smartphone with our Aptika Mobile App.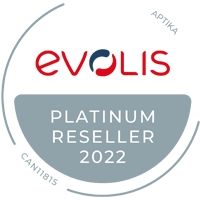 Is this product right for you?
Ask our experts! (800) 943-2341