Evolis Zenius Expert line Fire Red - USB & Ethernet - Mag ISO
Evolis Zenius Expert line Fire Red - USB and Ethernet - Mag ISO - is the one-stop solution to print high-quality single-sided cards, in monochrome or color, and encode technology cards, singly or in runs, for a variety of applications.
Easy-to-use
Zenius makes it easy for you every step of the way! Discover a wealth of advanced features loaded in a contemporary yet compact design.
Card feeder and output tray located at the front of the printer
Manual feeder
Control panel with LEDs
Scalable
Equipped with state-of-the-art printing technologies, the Expert version of Zenius can be upgraded onsite with multiple encoders. These flexible features ensure that you will always be in line with your current and future requirements in plastic card printing.
Direct access to ports
Onsite integration of specific modules*
Magnetic and smart card encoders can be combined within the same printer*
Compact, lightweight and silent:
With a low sound level and its amazingly small size, Zenius can be accommodated in virtually any environment, be it a welcome desk, a sales counter, or an office desk. By its really low weight, Zenius is the lightest printer in its category.
Eco-designed
Zenius has earned the coveted ENERGY STAR certification and complies with the reduced energy consumption guidelines from the ErP European Directive.
Standby and Sleep modes
ENERGY STAR certification
Compliance with the ErP European Directive
* Expert version and above
QR code
Scan this QR code and see this product on your Smartphone with our Aptika Mobile App.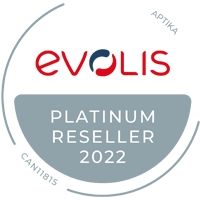 Is this product right for you?
Ask our experts! (800) 943-2341