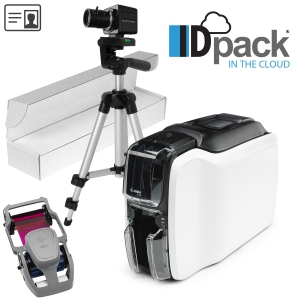 KIT 3 - Zebra ZC100 | Single-Sided
This Zebra ZC100 Photo ID bundle is easy to integrate, use, and manage for PC. Consisting of a plastic card printer, IDpack in the Cloud software, Photo ID Camera with Zoom, Tripod and a pack of consumables (1 color ribbon and 500 blank plastic cards).
This Zebra Card Printer ZC100, single sided photo ID system is the perfect solution for lower volume applications, such as temporary passes, visitor badges...
The software allows you to create your own database and design your own card layouts. With ribbons and card feeder loading, this Zebra Card Printer ZC100 Bundle offers good quality for printing 400 color ID cards effortlessly at a very competitive price. This ID system is the ideal solution if you are looking to update your Reception facilities with a professional visitor management system.
Easy to use
Print full color ID cards
Compact and light
Two-year warranty on printer
High quality 300 dpi printing
This kit includes:
1 Zebra Card Printer ZC100 - Single Sided - USB (# ZC11-0000000US00)
1 Ribbons YMCKO Full Color, 200 prints (# 800100-150)
500 blank plastic cards (White) - 0.030" (#8030-WHP-NM)
1 IDpack in the Cloud - Business Plan (1 year subscription)
1 FHD Photo ID Camera with Optical Zoom (# APT-FHDUSB01VF)
1 Tripod (# TNX-25)
QR code
Scan this QR code and see this product on your Smartphone with our Aptika Mobile App.
Is this product right for you?
Ask our experts! (800) 943-2341