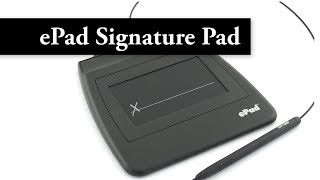 ePadLink ePad Signature Pad
ePadLink ePad signature pad is ePadLink's entry-level portable electronic signature pad that produces legally-binding e-signatures.
The IntegriSign Desktop e-signature software, which comes bundled with ePad, offers plug-ins for Microsoft Word, Excel, Outlook as well as Adobe Acrobat which means you can start e-signing out of the box without any programming experience.
Powerful SDKs can be used to implement a digital signature solution in any environment.
Applications: Hand signing Microsoft Word, Excel and Adobe Acrobat electronic documents. Electronically signing MS Outlook e-mail correspondence.
Recommended Products
ePadLink ePad-ink - USB
$318.00
$319.00
You save 0.31%
Nanuk Case 905 - 6 Different Colors Available
$64.95
$80.00
You save 18.81%