Bored at work? Play Breakout Clone Online with your Scriptel EasyScript

Play with the first online game for signature pads Breakout Clone for free with your Scriptel - ScripTouch EasyScript. Breakout is an arcade game developed and published by Atari Inc. and released on May 13, 1976. Thank you to Andrzej Mazur and Mozilla Contributors for the original game code this game is based on. To play with this game, you must have a Scriptel EasyScript signature pad. In Breakout, colored bricks lines at the top of the screen and the goal is to destroy them all. EasyScript from Scriptel was built from the ground up to enable a simple and convenient way to capture electronic signatures from web-based applications.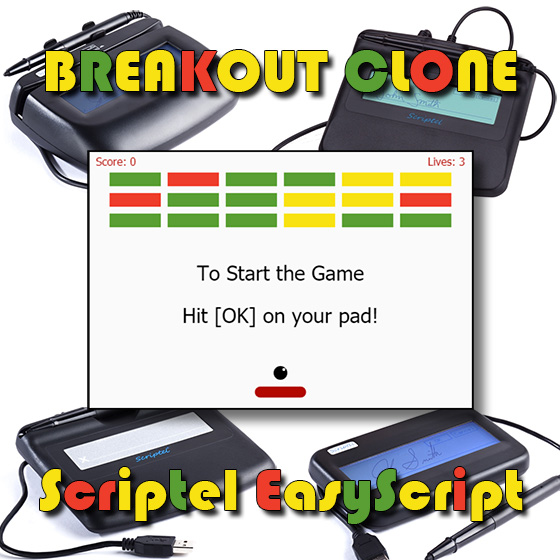 A common issue with application development is the problem of how to deploy the application when it's done and how to update it once it's installed on the end user's machine. Today's application ecosystem includes many operating systems, architectures, platforms, devices, and web browsers. In order to support these different technologies developers take advantage of cross platform languages and interfaces to reduce the cost to support the diverse devices their application needs to run on.
To this end Scriptel's EasyScript again takes advantage of the fact nearly all devices support USB keyboards. Software written for EasyScript ScripTouch devices can be easily integrated into platform independent applications.
Bored at work? Click here to play!
The latest version, EasyScript 2.0, adds signature data streaming and higher resolution. This means a better customer experience as users can now see their signature on-screen while they sign on the pad.
How to setup your capture device to sign in real time
Open the software provided by Scriptel call Scriptouch Toolbox, then click on the Output Tab. Check the options: Compress output and Stream output. Close the software and that's it!
Tagged on: easyscript, game, breakout, scriptel, online