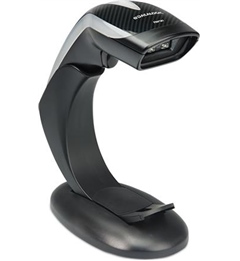 Heron HD3430 USB Kit, Black ( 2D Scanner, Stand and USB Cable)
The Heron HD3430 2D Barcode scanner brings unmatched elegance along with the latest advanced 2D reading technology to the modern point-of-sale.
The Heron HD3430 2D imager provides a stunning black 'carbon-fiber' look or a white 'silver' color option, emphasizing the curving lines of the Heron's enclosure. The imager also offers opportunities to incorporate a company brand identity by allowing customers to compose the perfect blend: combining a company logo with the top cover color with customized visual and audio feedback in order to reinforce the value of the customer's brand.
FEATURES
Outstanding reading performance on 1D, 2D, postal codes, stacked, composite codes and Image capture
Multiple changing color LEDs on sides and top
Top of the market illumination and aiming system
Polyphonic speaker for a wide variety of choices regarding audio feedback
Datalogic's patented 'Green Spot' technology for good-read feedback Automatic switching between handheld and hands-free operations
The Heron HD3430 2D area imager completes the Heron family offering by adding 2D reading capability to the existing Heron readers and providing customers with an unmatched choice regarding price and bar code reading needs.


Recommended Articles
QR code
Scan this QR code and see this product on your Smartphone with our Aptika Mobile App.

Is this product right for you?
Ask our experts! (800) 943-2341