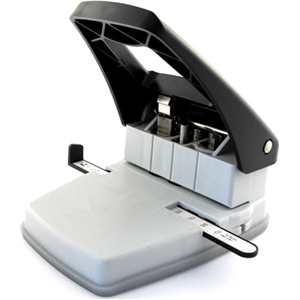 Warrior Versatile 3-in-1 Slot Punch
Warrior Versatile 3-in-1 Slot Punch is a top quality, effortless and precise paper and plastic punch
Warrior Versatile 3-in-1 Punch is a top quality, effortless and precise paper and plastic punch.
Durable, corrosion-resistant alloy steel punching device
The adjustable knob is easy and quick conversion for 3 kinds of functions:

Corner cutter - 4mm radius-cut
One-hole punch (1/4" hole)
Slot punch for namebadge or ID card (3x14mm)

Punching capacity: 20 sheets of 20 lbs paper or 1.0mm thickness plastic sheet.
Recommended Articles
QR code
Scan this QR code and see this product on your Smartphone with our Aptika Mobile App.
Is this product right for you?
Ask our experts! (800) 943-2341