Aptika partners with Matica to offer our Canadian and US customers the MC110, MC210, and MC310 direct-to-card printers

Aptika is proud to announce a new partnership with Matica Technologies to offer our Canadian and United States customers the direct-to-card MC110, MC210, and MC310 printers.
The Matica Group is a fast-growing and innovative global company headquartered in Switzerland with a solid international network. The company designs, develops, and manufactures identity and payment solutions. Matica is a well know company in Europe with more than 20 years of experience.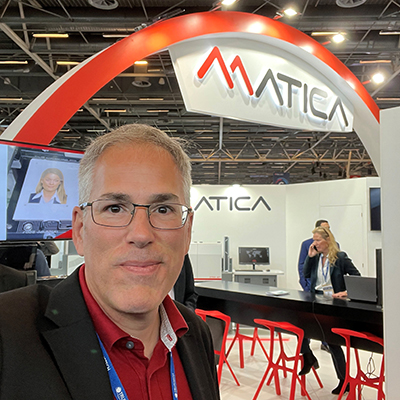 We met Mandy Kerr, Global Sales Director of Matica at TRUSTECH in Paris in 2022, and she gave us an excellent presentation of their products. We were so impressed that we decided to offer their printers to our customers.
Flexible and with seamless integration features, the MC110, MC210, and MC310 DTC series combines high-quality printing with inline encoding options while being compatible with IDpack in the Cloud, a cloud-based solution for designing, managing, and printing ID cards online.
"We are thrilled to be part of the Matica Partners family. Thank you to Shahid Azam​, Regional Sales & Marketing Manager, for his support" said Dominique Baptista, Co-Founder & CFO of Aptika.

The MC DTC series is a robust and reliable printer range from Matica, which offers superior print quality and a complete line of inline encoding, lamination, and laser options. It is a reliable, cost-effective solution for issuing plastic ID cards quickly and efficiently from the desktop and is well suited to a wide range of vertical markets.
About Aptika ( https://www.aptika.com )
Aptika has been providing several ID card-related products and services since 2000. Aptika is a North American company specializing in ID card software, card printers, signature pads, barcodes, plastic id cards, and other hardware, incorporating high-performance security technologies.
Tagged on: matica, mc110, mc210, mc310, dtc printer