How to Calibrate your Zebra ZXP 1 or ZXP 3 Series Printer Sensors

Your Zebra ZXP Series 1 or ZXP Series 3 ID card Printer is not printing your cards correctly? The colors are not aligning on the cards? Color panels stop printing in the middle of the card? You might need to calibrate the printer sensors on your Zebra. Follow these simple steps and try again. If the problem persists, contact Zebra Technical Support.
Windows XP

Go to Start Menu -> Printers and Faxes. Right click on your Zebra printer and go to Properties.
Windows 7

Go to Start Menu -> Devices and Printers. Right click on your Zebra printer and go to Printer Properties.
Windows 10

Go to Start Menu -> Settings. Click on your Zebra printer, click Manage then click Printer Properties.
If you get an error about "Printer is Offline" there is no communication with the PC, make sure the USB/Ethernet cable is connected. Restart your PC if necessary.
Go to Device Settings tab and click Tools.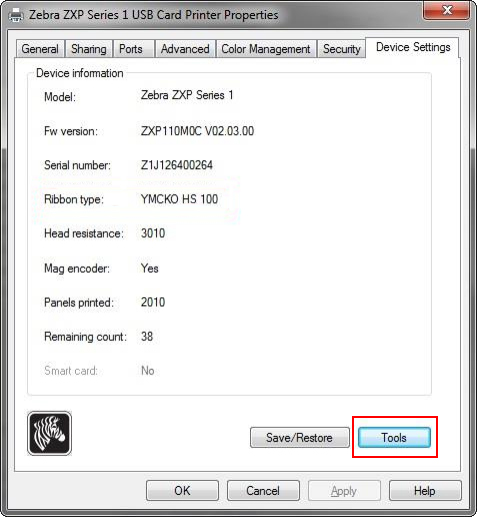 Under "Command to send to printer" type "!SA" (case-sensitive, uppercase, without the quote) and then click Execute. The printer will run the calibration process on its own. Under Printer Status, make sure "ACK" is displayed to verify the command was accepted.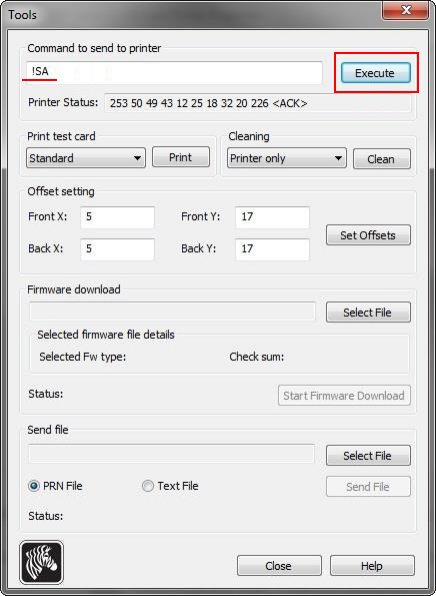 This completes the calibration process. Your printer sensors should now be calibrated and working properly.
Tagged on: zebra, calibrate sensor, zxp 1, zxp 3