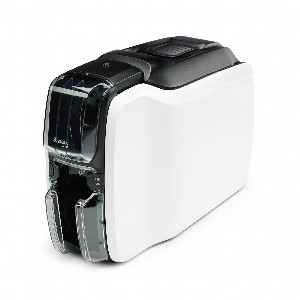 Zebra Card Printer ZC100 - Single Sided - USB & Ethernet
The ZC100 with plug-and-play USB and Ethernet deployment, instant card feeder adjustment, intuitive icons and driver interface, the ZC100 is easy to integrate, use, and manage. Ribbon changing is virtually fool-proof, and the revolutionary hopper design makes loading and unloading cards easier than ever.
NEXT GENERATION SIMPLICITY AND SECURITY IN A "FIT EVERYWHERE" DESIGN
Whether you need to print single-sided employee identity badges or membership and event guest cards, card printing is a crucial aspect of your business. Deployment flexibility and the time it takes to print and manage your card printing solutions all have an impact on your business — from your brand image to staff productivity, overall operational efficiency and operating costs. Now, there's a new kind of card printer designed to address it all — the ZC100. You get groundbreaking simple operation and the slimmest fit-everywhere design, along with a toolbox of additional capabilities that make the ZC100 even easier to integrate, use and manage. The ZC100 when only the best single-sided card printer will do.
We speak your language
Workers can interact with the ZC100 in their native tongue with support for multiple languages on the LCD display and in the driver: English, French, Italian, Spanish, Portuguese (Brazilian), German, Polish, Russian, Simplified Chinese and Arabic.
Revolutionary new hopper design
The completely re-designed hopper makes loading and unloading cards easier than ever. With the saloon-style output doors, there's nothing to open — just grab one card or the whole stack of cards. And the input and output hoppers have the same capacity, reducing the need to refill and empty the hoppers.
A new ingenious card feeder handles
varying card thickness on-the-fly The card feeder instantly adjusts to the thickness of each card — no more adjusting for different card stocks.
Fast and flexible printing Fast single-sided color and monochrome printing We took a good thing and made it better. The ZC100 prints up to 30% faster in monochrome and 15% faster in color than its predecessor, Zebra's ZXP Series 1 card printers.
QR code
Scan this QR code and see this product on your Smartphone with our Aptika Mobile App.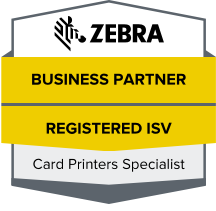 Is this product right for you?
Ask our experts! (800) 943-2341