Evolis Half-Panel Color Ribbon - 1/2 YMCKO - 400 prints
Evolis Zenius and Primacy - Half-Panel Color Ribbon - 1/2 YMCKO - 400 prints per roll. For the Evolis Zenius and Primacy card printers ONLY.
Evolis printers offer professional printing with the superimposition of the 3 primary colours (yellow, magenta and cyan) to add more depth and crispness to an image.
This process makes it possible to optimize the quality of printed images and logos with a 300 DPI resolution that guarantees expert presentation.
Our color ribbons apply a protective varnish onto your cards, to retain a high quality of image despite its frequent use. Printed cards can, therefore, be used for up to 3 years.
Evolis High Trust® half panel color ribbons are suitable for identification cards featuring a color ID photograph and some black resin printings (for text, logo or barcode). These ribbons have the same specifications as the standard full panel YMCKO color ribbon but the Yellow, Magenta and Cyan panels are half the length.
ADVANTAGES
An advantageous cost per card regarding to the standard YMCKO color ribbon (40% less) when you personalize in color just a part of a card. Higher printing autonomy than the standard YMCKO color ribbon for less operator intervention.
All ribbons are formulated to produce sharp, bright images and clear text. The protective varnish allows a better lifespan of the card and of your printing Tested and validated by Evolis R&D and Quality departments, these consumables bring you printing quality and reliability.
QR code
Scan this QR code and see this product on your Smartphone with our Aptika Mobile App.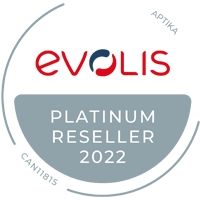 Is this product right for you?
Ask our experts! (800) 943-2341