Evolis Half-Panel Color Ribbon - 1/2 YMCKO - 400 prints
Evolis Zenius and Primacy - Half-Panel Color Ribbon - 1/2 YMCKO - 400 prints per roll. For the Evolis Zenius and Primacy card printers ONLY.
Evolis Half Panel YMCKO Ribbon
This ribbon has the same ink specifications as the standard full panel YMCKO colour ribbon but the Yellow, Magenta and Cyan are half the length.
The half panel colour ribbon is suitable for identification cards featuring a color ID photograph and some black resin printings (for text, logo or barcode) are required.
In many cases, this ribbon is used on blank cards but also on pre-printed cards. The main applications are student ID cards, transportation ID badges, employee ID badges, club membership cards, and driver's licenses.
Advantages:
40% less cost per card than the Standard YMCKO Color Ribbon (End User Price).
Higher printing autonomy than the Standard YMCKO Color Ribbon for less operator intervention (400 cards/roll instead of 200)

Evolis has been the first card printer manufacturer introducing this type of ribbon. This proven solution is now used in many countries worldwide for high volume printing (driving licenses, health cards, government ID cards…)
This ribbon is used for double-sided colour printings with photo quality resolution.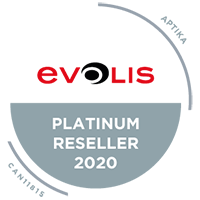 Is this product right for you?
Ask our experts! (800) 943-2341